How do we usually solve the problem of short distance travel? Bicycle, electric car, car or the new electric scooter? I believe the vast majority of people nowadays will choose the small and convenient electric scooter.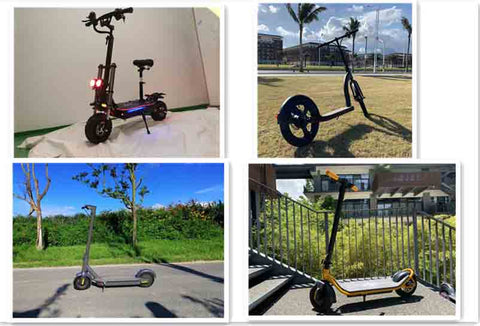 There are many different models of electric scooters.
The design style of electric scooters is very simple, the most common shape is L-shaped, one-piece frame structure. The handlebars can be designed as curved or straight, depending on the manufacturer's design, of course. Secondly, electric scooters can be folded into a one-piece structure, which can present a simple structure on the one hand, and make it easy for us to carry on the other.
Electric scooters have the following 4 advantages.
1. 1. Convenience. The wheel size of electric scooters is usually small, and the body is also generally made of aluminum alloy structure, which is light in weight and convenient to use. Compared with bicycles, electric scooters can be folded and put into the trunk of a car, and you can take it with you on the subway, bus, etc.
2, environmental protection: electric scooters can do low-carbon travel, reduce emissions and protect the environment. Compared with cars, you don't have to worry about traffic jams and parking difficulties to find a spot.
3. High economy. Electric scooters are usually powered by lithium batteries, which have a long battery life and low energy consumption.
4. 4. High efficiency. Brushless DC motor, high motor power, high efficiency, low noise, maximum speed can generally reach more than 25km/h, which is more convenient and faster than riding a bicycle.
In conclusion, there is no doubt that electric scooters can be a short distance tool that makes us awe-inspiring.