Electric scooters have grown in popularity in recent years, and can be more environmentally-friendly than some other forms of transport. The global electric scooters market size is expected to reach USD 34.7 billion by 2028, expanding at a CAGR of 7.6%.
Increasing adoption of electric scooters among the young population, the rising purchasing power of the middle-class community in developing countries, and rapid urbanization are expected to significantly drive product demand across the globe.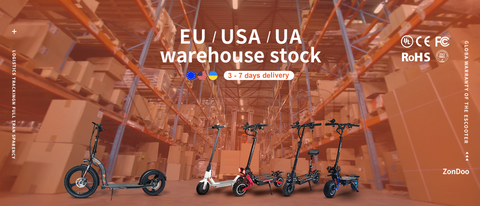 Electric scooters offer affordable last-mile transportation as compared to on-demand transportation. Agility and ease of maneuver in densely populated areas with high traffic congestion are additional advantages these vehicles offer, which is expected to fuel market growth.
Zondoo Electric scooter have EU/US warehouse that can support fast delivery service for global customers who want to try electric scooters.Whether you want to have a lightweight last-mile scooter to take with you on public transport or you are looking for a high performance off-road machine, Zondoo mobility can got you covered.